Shweshwe is a 100 percent cotton indigo cloth manufactured in South Africa by a company called Da Gama. Shweshwe has become a staple for South African woman who uses the fabric for the everyday dress as well as the traditional and formal wedding dress. It has even made an appearance on the runway, with modern dresses and couture becoming a new international trend. The Shweshwe dress is typically used in traditional ceremonies, ensuring the constant demand.
Shweshwe dress fashion has become a staple throughout the country of South Africa. It has become an increasingly popular choice among brides as well, opting to incorporate the fabrics and designs in their wedding dresses and special ceremony. However, the fashion trend is also being seen internationally as well.
The cloth first arrived in South Africa with German settlers in 1858. The German influence continues as most print is fashioned after Ujamani or German print. In 1992, Da Gamma purchased the sole rights to the design and is the only producer of the original print. The fabric has a crisp stiffness and smells that can be traced back to the starches protect the product's integrity during the long sea voyage from the UK to South Africa. After washing, the fabric softens. Originally this cloth was only available in blue. However, throughout its history brown and red have been added and most recently a wide assortment of modern colors have been added. It is the vibrant colors and designs that have continued to push the popularity of the Shweshwe fabric, making it an ingrained part of African fashion trends.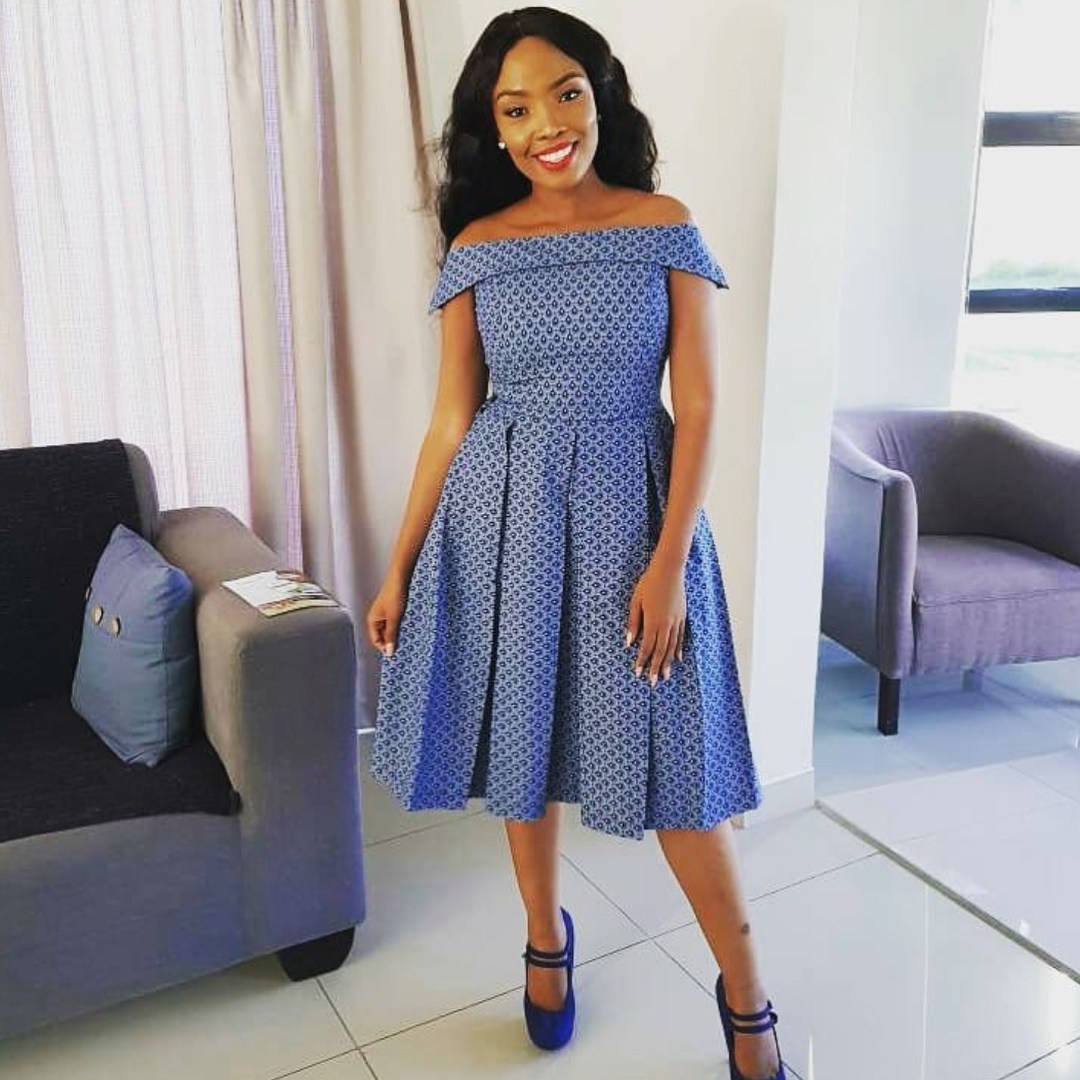 Dress with Shweshwe fabric has been compared to what other countries would refer to as denim. Several modern designers have taken to using the product extensively and can be seen everywhere from local South African dress shops to Pinterest to online stores that sell internationally. As dresses made with Shweshwe fabric become increasingly popular, the genuine Shweshwe fabric has to struggle with an increase in counterfeit impersonators that sell for half the price. There are counterfeiters throughout Europe, South Africa, and China. These counterfeits can be identified by their inferior quality and lack of vibrancy in their colors. Counterfeits taking shortcuts in the quality and design can usually be identified after a single wash, while the original Shweshwe fabric is of significantly higher quality.
As Shweshwe continues to increase in demand and popularity, we should expect to see it become available in other countries but also provided by other companies. This includes additional counterfeits as well as quality producers with a competitive product. Although the original Shweshwe fabric has superior quality over counterfeits and impersonators, there do seem to be some areas where the product could be improved. For example, it is available in one width. A competitor that was able to keep the quality of the fabric but offer various widths may have an advantage with designers.